Lamb Shanks With Red Wine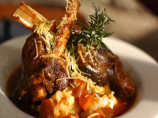 Photo by GREG IN SAN DIEGO
Prep Time: 30 mins
Total Time: 2 hrs 30 mins
Servings: 4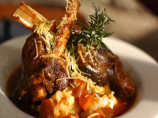 Photo by GREG IN SAN DIEGO
About This Recipe
"This is one of my favorite lamb recipes, from Craig Claiborne's New York Times International Cookbook. I have adapted it slightly to my taste. It is easily prepared and always well received."
Ingredients
4 lamb shanks

3 tablespoons flour ( I prefer Wondra.)

salt & freshly ground black pepper

2 tablespoons unsalted butter

2 tablespoons vegetable oil

1 1/2 cups finely chopped yellow onions

1 cup finely chopped deveined celery

1 cup finely chopped carrot

1 garlic clove, minced

1 cup dry red wine ( drinkable)

2 sprigs fresh parsley

1 sprig fresh thyme

1 bay leaf

1 teaspoon dried marjoram
Directions
Preheat oven to 350 degrees.

Rub the shanks with flour, seasoned with salt and pepper.

Heat the butter and oil in a heavy skillet.

Brown the shanks on all sides and transfer to a casserole.

To the same skillet, add the onion and cook, stirring, until wilted.

Add the carrot, celery and garlic and cook briefly.

Stir in the wine and pour the mixture over the shanks.

Add the remaining ingredients and season to taste.

Cover tightly and bake one and one-half to two hours, or until fork tender.