Homemade Salsa and Fried Tortilla Chips With Seasoning - Deen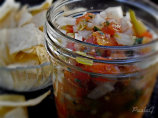 Photo by PaulaG
Prep Time: 25 mins
Total Time: 30 mins
Servings: 4-6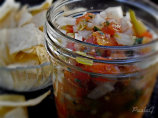 Photo by PaulaG
About This Recipe
"Courtesy of Paula Deen and Food Network."
Ingredients
3 large ripe tomatoes, diced or 1 (14 ounce) cans diced tomatoes with juice

1 small onion, finely chopped

1 small green bell pepper, seeds and veins removed, and minced

1 (4 ounce) cans chopped green chilies, with juice

1 garlic clove, minced

2 tablespoons red wine vinegar

1 tablespoon olive oil

Other ingredients you may want to add to Salsa

1 small red onion, finely diced

2 (15 ounce) cans black beans, drained and rinsed

1 large avocado, peeled and diced

salt & freshly ground black pepper

1 mango, peeled and diced

1/2 cup pineapple chunk

2 limes, juiced

Fried tortilla chips

8 fresh corn tortillas

oil, for frying

House Seasoning

1 cup salt

1/4 cup black pepper

1/4 cup garlic powder
Directions
Salsa:.

Combine all ingredients, and any extra ingredients you may want to add, in a large glass bowl.

Stir well with a spoon.

Cover with plastic wrap and chill until serving time.

Tortilla Chips:.

Arrange the tortillas in a stack and cut into 6 equal wedges.

Pour about 1-inch of oil in a large frying pan over medium-high heat to 350 degrees F on a deep-fat frying thermometer.

Fry just a few at a time, turning occasionally, until crisp and lightly browned, about 1 minute.

Drain on paper towels; sprinkle lightly with salt, if desired.

Store in an airtight container.

House Seasoning:.

Mix ingredients together and flavor chips to taste.

Store leftover seasoning in an airtight container for up to 6 months.