Chili Coconut Chicken Curry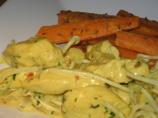 Photo by The Flying Chef
Prep Time: 25 mins
Total Time: 55 mins
Servings: 4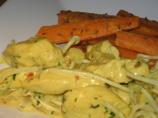 Photo by The Flying Chef
About This Recipe
"I came up with this the other night it was very good, my son thought it was a bit too spicy, but my hubby who is not into anything that has to much spice loved it, so I guess make your choice. I made just with Kumara as the side instead of rice but feel free to mess around with recipe."
Ingredients
olive oil

1 kg chicken breast, sliced into strips

2 medium onions, sliced

3 garlic cloves, crushed

1 tablespoon chopped fresh lemongrass

2 teaspoons red chili pepper flakes

1 teaspoon ground coriander

1 teaspoon cumin seed

1 teaspoon turmeric

2 teaspoons fish sauce

1 teaspoon chicken stock

250 ml coconut milk

200 ml coconut cream

1 1/2-2 tablespoons fresh coriander, chopped finely

120 g bean sprouts

Baked Kumara (sweet potato)
Directions
Cook chicken in batches until browned all over, remove and set to one side, wipe pan.

Add onions and garlic, cook until onion is soft, add lemon grass, chili, ground coriander, juice, seeds, turmeric and sauce, cook a couple of minutes until fragrant.

Return chicken chicken to pan with stock, sugar, milk and coconut cream, cook covered about 15-20 Min's until chicken is cooked through, remove lid about 5 Min's before the end, add bean sprouts and fresh coriander, cook remaining time without lid served with baked kumara.

Baked Kumara.

Peel kumara and cut in half, then slice halves into strips.

Combine kumara, oil and seeds in a bowl. Transfer mixture to a baking dish.

Bake, uncovered, in a hot oven 10 Min's (200c) Turn heat down to moderate (180c)for a further 15 Min's of until kumara is tender.

To Serve: Place spoonfuls of chicken on a plate and serve kumara on the side.

You can also serve with brown rice if desired, we try to limit our carbs so the kumara is plenty for us.