The Original Pancake House Apple Pancake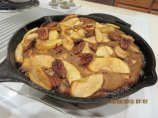 Photo by Bonnie G #2
Prep Time: 20 mins
Total Time: 1 hr 10 mins
Servings: 4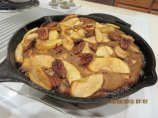 Photo by Bonnie G #2
About This Recipe
"Found this online while searching for TOPH recipes. Fabulous recipe from The Original Pancake House! The Apple Pancake contains eggs, flour, milk, sugar, cinnamon, vanilla, butter and lots of apples. It takes about 30 minutes to bake in an iron skillet and is served all puffed up and steaming hot. The Apple Pancake really isn't much like a pancake at all. It's more a like a soufflé or really, really moist bread pudding. The only way to truly appreciate it is to try one yourself."
Ingredients
5 tablespoons butter

2 granny smith apples ( peeled, cored, and sliced thin)

1 tablespoon cinnamon

1 cup flour

1 cup milk

1/4 teaspoon pure vanilla extract

4 eggs

1/2 cup dark brown sugar

1/2 cup granulated sugar
Directions
In a mixing bowl, add flour, milk, vanilla and eggs. Mix well.

In another bowl, mix the brown sugar, granulated sugar, and remaining cinnamon.

Add butter to a 10 inch Pyrex pie deep dish and put in the oven (deep dish Pyrex is great) At 400 degrees.

When the butter is completely melted remove from oven.

Pour the batter into the Pyrex dish and put back in the oven for 20-25 minutes. The edges will begin to puff.

Remove the half-way cooked batter from the oven and now add the apple mixture to it.

Just simply place the apples all over the top of the batter.

Next, cover the entire service with the brown sugar/sugar/cinnamon blend and put it back in the oven for another 20-25 minutes.