Little Piece of Healthy Heaven Baked French Fries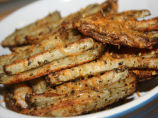 Photo by ~Nimz~
Prep Time: 5 mins
Total Time: 40 mins
Servings: 4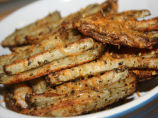 Photo by ~Nimz~
About This Recipe
"Simply put, these are to die for. Loved by all ages and you don't even need ketchup! Zero clean up as well :)"
Ingredients
4 idaho potatoes

14.79 ml olive oil

4.92 ml garlic powder

4.92 ml onion powder

0.59 ml salt

0.59 ml pepper

0.59 ml cayenne pepper

29.58 ml herbes de provence

59.14 ml parmesan cheese, grated ( use more to taste)
Directions
Preheat oven to 425.

Wash potatoes and peel them if you like (I leave skins on for more crunch!) Cut potatoes in half lengthwise, and then in half lengthwise again. Cut into strips, as thin as possible. It's ok if some are a little thicker.

Place cut up fries in a big ziploc bag and add olive oil. Shake to coat.

In a small bowl, mix all spices, and then dump into bag. Shake to coat.

Line 2 cookie sheets with foil. Spray lightly with cooking spray.

Arrange fries in a single layer on sheets (don't overlap too much) and sprinkle grated parmesan all over potatoes. Put in preheated oven and bake for 30-45 minutes. You want them to turn golden brown with some crispy edges. 4-5 of them on the outside may turn darker but they are still extremely tasty and just cook faster than the ones in the middle. Watch them closely for desired texture! Just make sure the parm cheese starts to become a golden brown color and potatoes are cooked through!