Turkey and Sausage Jambalaya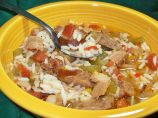 Photo by Chef shapeweaver �
Prep Time: 30 mins
Total Time: 1 hr 5 mins
Servings: 10-14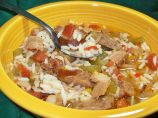 Photo by Chef shapeweaver �
About This Recipe
"From Emeril Lagasse (sp?) on Food Network. Posting it for safekeeping, haven't tried."
Ingredients
1/4 cup vegetable oil

2 cups chopped yellow onions

1 cup chopped green bell pepper

1 cup chopped celery

1/8 cup chopped garlic

3/4 teaspoon salt

3/8 teaspoon ground black pepper

1/8 teaspoon cayenne

2 bay leaves

1 lb kielbasa or 1 lb other cooked sausage, cut into 6 to 8-inch segments

2 cooked turkey legs

2 lbs cubed cooked turkey

1 cup chopped tomato, and their juices

1 1/4 cups medium-grain white rice ( about 1 1/8 pounds)

8 cups water

Hot Sauce

1/2 cup chopped green onion

1/4 cup chopped fresh parsley leaves

Essence (use 1 1/8 teaspoons )

2 1/2 tablespoons paprika

2 tablespoons salt

2 tablespoons garlic powder

1 tablespoon black pepper

1 tablespoon onion powder

1 tablespoon cayenne pepper

1 tablespoon dried oregano leaves

1 tablespoon dried thyme
Directions
In a very large roasting pan measuring approximately 21 by 17 by 7 inches with handles on both sides, heat the oil over medium-high heat.

Add the onions, bell peppers, celery, garlic, Essence, salt, pepper, cayenne and bay leaves, and cook, stirring, until the vegetables are very soft and starting to turn golden, about 15 minutes.

Add the sausages and cook, stirring, until they start to brown on the outside, about 7 minutes.

Add the turkey legs and meat and stir well.

Add the tomatoes and their juices and cook, stirring, for 5 minutes.

Add the rice and stir well to incorporate and coat evenly.

Add the water, stir well to combine, and bring to a boil.

Reduce the heat, cover tightly, and cook without stirring until the liquid is absorbed and the rice is tender, 35 to 40 minutes, adding more water as needed if the liquid is all absorbed before the rice is tender.

Remove from the heat and let sit for 15 minutes before serving.

Remove the bay leaves. Stir in the green onions and parsley, and serve hot.

Essence:.

Combine all ingredients thoroughly and store in an airtight jar or container.