Al Kabsa - Traditional Saudi Rice (& Chicken) Dish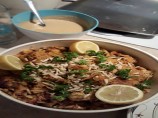 Photo by R?mah D.
Prep Time: 20 mins
Total Time: 1 hr 40 mins
Servings: 8-10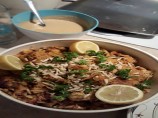 Photo by R?mah D.
About This Recipe
"Al Khabsa / Khabsa is very traditional. It can be made with many variations - this is just one of them - I hope to post more! Use chicken for this recipe, my others have lamb instead.....I have revised the recipe as of 09/02/09, although when I cook it the amounts are correct - perhaps it's the rice I use?"
Ingredients
Kabsa Dish

1/4 cup butter

3 lbs chicken, cut into 8-10 pieces

1 large onion, finely chopped

6 garlic cloves, minced

1/4 cup tomato puree

14 ounces canned chopped tomatoes, un-drained ( or fresh)

3 medium carrots, grated

2 whole cloves

1 pinch grated nutmeg

1 pinch ground cumin

1 pinch ground coriander

salt & freshly ground black pepper

4 cups hot water

1 chicken stock cube

2 1/4 cups basmati rice ( don't rinse or soak this)

1/4 cup raisins

1/4 cup slivered almonds, toasted

Kabsa Spice Mix

1/2 teaspoon saffron

1/4 teaspoon ground green cardamoms

1/2 teaspoon ground cinnamon

1/2 teaspoon ground allspice

1/4 teaspoon white pepper

1/2 teaspoon ground dried limes
Directions
Melt butter in a large stock pot, casserole or dutch oven. Add chicken pieces, onion & garlic & sauté until onion is tender. Stir in tomato puree & simmer over a low heat for a couple of minutes.

Add tomatoes, carrots, cloves, all the spices & salt and pepper. Cook for a couple of minutes. Add the water & Maggi cube.

Bring to a boil, then reduce heat and cover. Simmer over low heat for 30 minutes. Add rice to the pot & stir carefully. (if you're wanting to brown the chicken in the oven - remove it from the pot now & place in the preheated oven).

Re-Cover & simmer for 35 - 40 minutes - adding the raisins for the last 10 minutes - or until rice is tender.

Place the rice on a large serving dish, topped with the chicken & garnished with almonds. Serve with a fresh mixed salad - preferably with a little lime vinaigrette. Saudis like their Kabsa with a hot sauce called 'Shattah'.

N.B: You can also 'finish' the chicken pieces off in the oven by cooking them for 25 - 30 minutes at 180 C whilst the rice is cooking. (but don't let them become dry).