Khinkali (Ground Meat Filled Pasta Pockets)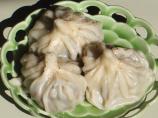 Photo by mianbao
Prep Time: 30 mins
Total Time: 50 mins
Servings: 6-8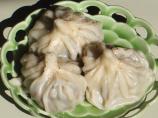 Photo by mianbao
About This Recipe
"Mongols brought the meat filled pasta pockets from central Asia to Georgia during their attacks westward in the 13th century. Very similar to Baozi in China."
Ingredients
Filling 1

1 3/4 lbs ground lamb

salt, to taste

black pepper, to taste

3 large onions, minced

1 bunch cilantro, minced

Filling 2

12 ounces ground beef

12 ounces ground pork

4 tablespoons cilantro, minced

1 teaspoon dried fenugreek leaves

1/2 teaspoon crushed red chili pepper flakes

3 small yellow onions, minced

Dough

4 1/2 cups all-purpose flour

2/3 cup lukewarm salt water
Directions
Knead together the filling you have chosen and about 7 tbsp lukewarm water.

Prepare a smooth dough from the flour and the salted water. Roll it out thinly and cut out 6 inch circles using a plate.

Place about 2 tbsp filling in center of round, and fold edges of dough over filling, creating pleats in dough as you go, until filling is covered.

Holding dumpling in the palm of one hand, grasp top of dumpling where pleats meet and twist to seal pleats and form a knot at top of dumpling. Repeat with remaining dough rounds and filling.

Put the khinkali in a large pan with boiling, lightly salted water and simmer gently, gently agitating them with a wooden spoon now and again.

When the khinkali float to the surface, continue to simmer for about 6 more minutes. Total time should be about 8 minutes.

Remove from the water with a wire skimmer, sprinkle black pepper over each and serve hot with cold beer.