Riyadh Rice - Middle Eastern Favourite!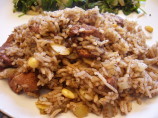 Photo by cyaos
Prep Time: 15 mins
Total Time: 1 hr
Servings: 4-6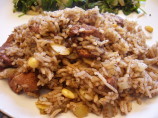 Photo by cyaos
About This Recipe
"Rice cooked with meat & wonderfully aromatic spices...."
Ingredients
1 lb lean meat, cut into 1/2 inch cubes

3 cups basmati rice, soaked in water for 15 minutes, then drained ( or long grain rice)

1/4 cup chopped onion

2 -3 garlic cloves, minced

1/2 cup raisins

2 tablespoons tomato paste

1/2 teaspoon ground cloves

1/2 teaspoon cinnamon

1/2 teaspoon salt

1/2 teaspoon ground black pepper

1 tablespoon ground cardamom

1 1/2 tablespoons butter

1/4 cup toasted pine nuts

1/4 cup toasted almond
Directions
Brown meat,on all sides in 1 tbsp butter.

Add seasoning to meat and stir. Pour three cups boiling water over the meat. Cover and let cook for one hour on a medium high heat, 'til the meat is done. Measure the broth left in a measuring cup. Add enough water to make up 3 cups of liquid.

Stir onions and garlic with 1/2 tablespoon hot melted butter, till slightly brown.

Add the meat and the liquid to the onion mixture. Stir tomato paste over. Bring to boil then add the rice and raisins.

Cover the pan and reduce heat to low. Let cook for 30 minutes. Open the pan and stir just the top layer. See if rice is cooked. You may need to cook, covered, a few minutes longer.

Serve rice and garnish with the meat and nuts.

Serve with plain Yogurt and mixed green salad.