2-Ingredient Punch (Mock Champagne Punch)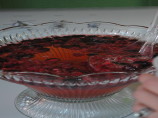 Photo by jodimichelle
Prep Time: 5 mins
Total Time: 5 mins
Serves: 16-20, Yield: 4.0 quarts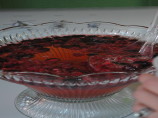 Photo by jodimichelle
About This Recipe
"I've been making this punch for years. I wish I had a dollar for every time someone asks for the receipe and then thinks that I'm truly keeping it a secret because they cant believe it only has 2 ingredients. It is the easiest, most light and refreshing compliment to any shower, tea or party gathering. It's beautiful looking too and matches any theme or color. You can make it for a few people up to 100's and still, it is a money friendly punch because it has only 2 ingredients. But don't let the 'only 2' ingredients fool you. It's delicious! (Some people say it reminds them of champagne.) Kid friendly, teen friendly, adult friendly. Enjoy!"
Ingredients
1 (2 quart) bottles white grape juice ( any brand)

1 -2 liter ginger ale ( i use canada dry diet ginger ale, you can't tell it's Diet)

optional garnish
Directions
Place white grape juice and ginger-ale in refrigerator overnight or until well chilled. Placing them in the freezer for a couple of hours before serving will make them 'icy' and everyones favorite.

In a serving picture or punch bowl, pour equal parts white grape juice and ginger-ale. Stir gently. Fill each glass, and if you want garnish with frozen fruit.

Optional Garnish: On a lined cookie sheet, place the fruit(s) in a single layer but not touching, into the freezer for several hours until frozen (or overnight). After they are completely frozen, they can be bagged together as long as they stay in the freezer so they don't stick together. Then use one of each fruit to garnish each glass. It is beautiful and also keeps it colder longer and doesn't water down the flavor.