Moroccan Prawns With Couscous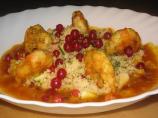 Photo by The Flying Chef
Prep Time: 30 mins
Total Time: 55 mins
Servings: 2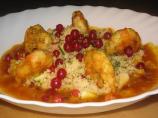 Photo by The Flying Chef
About This Recipe
"This is sounds like such a big recipe but if you just follow the steps it is not as daunting as it sounds and the end result is gorgeous. I made this as I have been trying to recreate a recipe I have had at a local restaurant. I know this is not exactly how they would make it but it tasted wonderful and both myself and my hubby absolutely loved this."
Ingredients
Sauce

1 cup water

2 teaspoons fish stock granules ( a good flavoursome one.)

1/2 teaspoon garlic powder

1 teaspoon ground cumin

1/2 teaspoon ground coriander

1/2 teaspoon ground ginger

1 teaspoon grated lemon zest

1 tablespoon lemon juice

4 tablespoons hot mango chutney ( as I add it I like to remove any big mango chunks.)

2 tablespoons sweet mango chutney

Prawns

Vegetables

2 tablespoons olive oil

1 small red capsicum, finely chopped

1 small yellow capsicum, finely chopped

1 medium carrot, finely chopped ( diced)

1 small zucchini, finely chopped

100 g red currants

Couscous

1 liter water

2 teaspoons vegetable bouillon granules

1 (125 g) sachet quick-cooking couscous
Directions
Sauce.

Combine all sauce ingredients, heat over medium heat and stir until well combined, leave over a low heat while making the rest, stir occasionally.

Vegetables.

Add the oil to a pan, cook vegetables, stirring, until just tender, keep warm.

Couscous.

Add water to a large pan with stock and bring to the boil, add sachet and cook for about 3-4 minutes, or according to packet instructions.

Remove and pour into a large bowl, fluff with fork, combine vegetables. Gently stir in red currants reserving a few to sprinkle over the top.

Prawns.

Heat oil in a pan over a medium heat, add garlic, cook stirring until aroma rises, add the rest of the spices, stir for a minute, add prawns and toss to coat in spice.

Cook until prawns are opaque, add parsley coat and cook for another minute or until prawns are cooked through.

To Serve: Place couscous in a mound on a plate, arrange prawns over couscous and spoon sauce around the outside of the couscous, garnish with extra red currants.