Dublin Lawyer - Lobster Dublin Style With Whiskey and Cream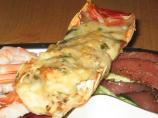 Photo by The Flying Chef
Prep Time: 20 mins
Total Time: 40 mins
Servings: 2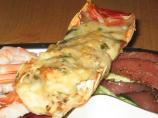 Photo by The Flying Chef
About This Recipe
"A decadant classic Irish recipe which is thought to be at least two centuries old; fresh lobster baked with cream and Irish whiskey - delectable! Though no one's absolutely sure where Dublin Lawyer got its name, locals still insist that it's probably because Dublin lawyers had a reputation for being rich and having a lot of whiskey in them! The dish remains simple, quick and easy to make, but delivers on the luxury and romantic meal front! Try this out for St Patrick's Day as a seafood alternative to the usual corned beef and cabbage stew."
Ingredients
1 fresh lobster, about 1 kilo in weight

50 g butter

59.16 ml Irish whiskey

150 ml double cream

4.92 ml fresh lemon juice

4.92 ml mustard

salt

black pepper
Directions
Cut the lobster in two down the centre.

Remove all the meat, including the claws, retain the shell for serving.

Cut the meat into chunks.

Heat the butter until foaming and quickly sauté the lobster chunks in it, until just cooked but not coloured.

Warm the whiskey slightly, pour over the lobster and CAREFULLY set fire to it.

Once the flames have died down, add the cream, lemon juice, mustard and mix with the pan juices, and taste for seasoning, add salt and black pepper to taste.

Put back into the half shells and place under a hot grill for 2-3 minutes until the sauce is bubbling.

Serve hot with fresh lemon wedges, steamed baby potatoes and a fresh mixed salad.