Dominican Locrio De Pollo ( Rice and Chicken)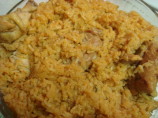 Photo by Kitty Kat Cook
Prep Time: 15 mins
Total Time: 55 mins
Servings: 4-6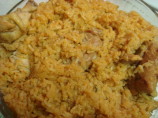 Photo by Kitty Kat Cook
About This Recipe
"One of my childhood favorites, had it quite often. Traditionally they do add the olives and sometimes even capers..but I don't like them."
Ingredients
4 lbs roasting chickens, cut into parts

4 cups long grain white rice

8 cups water

5 tablespoons oil

2 tablespoons lime juice

1 teaspoon white sugar

4 tablespoons tomato paste

1/4 cup cubanelle pepper, chopped

1 small red onion, finely chopped

1 pinch ground oregano

1 teaspoon crushed fresh garlic

1 pinch ground black pepper

1/8 cup pitted olive, chopped (optional)

1/4 cup fresh cilantro, chopped

salt

1 chicken bouillon cube

3 tablespoons adobo seasoning ( Goya)
Directions
Wash the chicken parts in cold water. In a large plastic bag or air tight container with lid, place the chicken, add the cilantro, lime juice, garlic, onions, pepper, oregano, adobo seasoning and black pepper. Allow it to marinate for at least 10 minutes.

In a large cast iron pot over high heat, add 3 tbsp of oil (reserve 2) add sugar to heated oil, and quickly stir. Don't allow it to burn. When sugar turns brown (this will happen very quickly) add the chicken without the vegetables but don't discard them. Stir the chicken and cover. Reduce heat to medium and let it simmer for 10 minutes Adding tablespoons of water regularly if needed to prevent it from burning/sticking.

After 10 mins add the remaining water, the tomato paste, the reserved vegetables, and the chicken bouillon cube, and stir to combine until well mixed and paste and bouillon are dissolved. Taste and add salt to taste. Should be just a little saltier than you'd prefer, because the rice and chicken will absorb a lot of it.

Add the rice, once all the water has evaporated, cover and simmer over minimum heat. Wait 15 mins, uncover give it all a good stir from bottom to top and add the remaining 2 tbsp oil. Cover and wait another 5 minutes Taste rice for doneness, it should be firm but tender inside. If necessary, cover and leave another 5 minutes.

Serve with a side of green salad, tostones and avocados; Enjoy!