Old-Fashioned New York-Style Cheesecake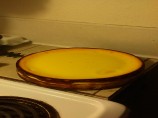 Photo by Luella A Santiago-Dawson
Prep Time: 30 mins
Total Time: 1 hr 50 mins
Servings: 8-10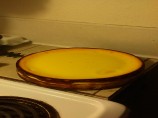 Photo by Luella A Santiago-Dawson
About This Recipe
"finaly a real cheesecake none of that low-carb junk dont bother counting caleries enjoy yourself, have a slice of heaven."
Ingredients
1 cup graham cracker crumbs

2 1/2 tablespoons unsalted butter

1 1/2 tablespoons sugar

2 1/2 lbs cream cheese, softened

1 1/2 cups sugar

1 lemon, zest of

1 orange, zest of

1/2 teaspoon vanilla extract

3 tablespoons all-purpose flour

5 eggs

2 egg yolks

1/2 cup sour cream
Directions
Preheat oven to 375 degrees F.

Butter the bottom of a 9-inch springform pan.

In a mixing bowl, combine graham cracker crumbs, butter and sugar and mix well.

Press onto bottom of springform pan and bake until golden, about 8 minutes. Set aside to cool.

When completely cooled, butter the sides of the pan.

Increase oven temperature to 500 degrees F.

In a large mixing bowl with an electric mixer, combine cream cheese, sugar, zests and vanilla and beat until light and creamy.

Add the flour, then the eggs and yolks 1 at a time, mixing well after each addition.

Add the sour cream and mix until smooth. Pour mixture into prepared pan and bake for 12 minutes.

Reduce oven temperature to 200 degrees F and bake for 1 hour more.

Transfer cake to a cooling rack and let cool completely. Refrigerate cake overnight before serving.

To serve, Slice with a knife dipped in hot water and wiped with a clean cloth, and serve.