Spicy Shrimp and Chicken Pasta (Like Carino's)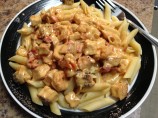 Photo by BenjaminPon
Prep Time: 15 mins
Total Time: 35 mins
Servings: 6-8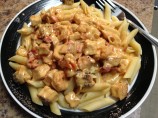 Photo by BenjaminPon
About This Recipe
"This is my FAVORITE dish at Johnny Carino's in my town and this is my rendition of the recipe. My husband says it tastes exactly like theirs. I have played around with how much cayenne pepper to put in this dish because the recipe I found originally just said "to taste". For me, one teaspoon is too mild, but two teaspoons is pretty spicy. I'd put some in and do a taste test before you add more. The original recipe was in Denver's Rocky Mountain News, but I have modified it to our tastes, including leaving out the green onion and increasing the amount of the sauce. Also, the original recipe said it served 4, but we have no problem getting 6-8 servings of this. I serve it with a tossed salad and my Crusty Italian Garlic Bread."
Ingredients
2 (8 ounce) boneless skinless chicken breasts, grilled

3 tablespoons butter

20 medium raw shrimp, peeled, tail removed, and cleaned

1 cup fresh button mushroom, cleaned and sliced

1 cup sun-dried tomato, sliced

salt and pepper, to taste

3 cups heavy cream

1/2 cup romano cheese, grated

1 1/2 teaspoons cayenne pepper

16 ounces dry penne pasta
Directions
Season and grill the chicken breasts until done. Cool and slice into bite sized pieces.

Add butter to a large sauté pan on medium heat.

Once butter is melted, add the shrimp, sliced chicken, mushrooms, sun-dried tomatoes, salt and pepper.

Saute mixture until shrimp and mushrooms are cooked.

Add the cream, Romano cheese and cayenne pepper. Let cream reduce by half while stirring frequently.

Meanwhile, cook pasta al dente according to package directions; drain excess water.

Toss cooked pasta with contents of sauté pan. Serve.