Beefy Bean and Vegetable Soup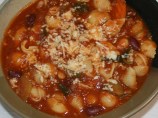 Photo by Texas Aggie Mom
Prep Time: 15 mins
Total Time: 1 hr 45 mins
Servings: 10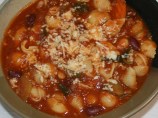 Photo by Texas Aggie Mom
About This Recipe
"A wonderful hearty minestrone and even better the next day, I also like to add in fresh baby spinach at the end of cooking and simmer for a few minutes, this soup freezes very well --- the longer this soup simmers the richer it will be so don't be afraid to cook for a longer time, feel free to adjust all amounts to taste --- add in some cooked small shells at the end of cooking if desired."
Ingredients
1/2 lb lean ground beef

1/2 lb bulk pork sausage ( or use 1 pound ground beef)

1 large onion, chopped

2 -3 tablespoons fresh minced garlic

1 stalk celery, diced

1 -2 teaspoon crushed red pepper flakes ( or to taste)

3 teaspoons dried Italian seasoning

1 (28 ounce) cans crushed tomatoes

2 cups v- 8 tomato juice ( or use regular tomato juice)

1 (14 ounce) cans tomato sauce

1 (14 ounce) cans beef broth

1 -2 tablespoon Worcestershire sauce

1 (16 ounce) cans red kidney beans, drained

1 (16 ounce) cans white kidney beans, drained

1 1/2 teaspoons seasoning salt ( or to taste)

1 teaspoon fresh ground black pepper ( or to taste)

1 medium zucchini ( sliced in half lengthwise then sliced into pieces)

2 carrots, peeled and sliced thinly

1 -2 teaspoon brown sugar

1/2 cup grated parmesan cheese
Directions
In a Dutch oven cook the ground beef with pork and onion until no longer pink; drain fat.

Add in fresh garlic, diced celery, chili flakes and Italian seasoning; cook stirring for 3 minutes.

Add in crushed tomatoes, V-8 tomato juice, tomato sauce, beef broth, Worcestershire sauce and red and white kidney beans, seasoned salt and black pepper bring to a simmer, stirring constantly.

Reduce heat to low, cover and simmer for about 1 hour, stirring occasionally (can simmer longer if desired).

Add in zucchini and carrots and continue cooking until veggies are fork tender (about 20 minutes).

Add in 1-2 teaspoons sugar and season with more salt and pepper (if needed).

Mix in Parmesan cheese until heated through, then mix in the cooked shells (if using).

Ladle into bowls and top with more Parmesan cheese if desired.