Chocolate Crunch (Cooking Light)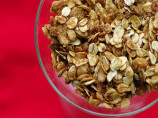 Photo by Redsie
Prep Time: 10 mins
Total Time: 40 mins
Serves: 16, Yield: 8 cups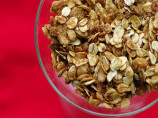 Photo by Redsie
About This Recipe
"This granola is satisfying on it's own or sprinkled over yogurt, fresh fruit, or ice cream. Store in an airtight container for up to one week, or freeze for up to one month."
Ingredients
cooking spray

3 cups oats

1 cup oven-toasted crispy rice cereal ( such as Rice Krispies)

1/2 cup packed brown sugar

1/3 cup chopped pecans

1/2 teaspoon salt

1/4 teaspoon ground cinnamon

1/4 cup honey

2 tablespoons canola oil

1 teaspoon vanilla extract

2 ounces bittersweet chocolate, finely chopped ( 60 to 70% cocoa)

1/2 cup dried cranberries
Directions
Preheat oven to 3oo degrees.

Cover a jelly roll pan with parchment paper. Coat parchment paper with cooking spray.

Combine oats, rice cereal, brown sugar, chopped pecans, salt and ground cinnamon in a large bowl.

Combine honey and canola oil in a small saucepan over low heat; cook 2 minutes or until warm. Remove from heat. Add vanilla and chocolate; stir with a whisk until smooth. Pour chocolate mixture over oat mixture. Lightly coat hands with cooking spray. Gently mix chocolate mixture and oat mixture until combined. Spread oat mixture onto prepared jelly-roll pan. Bake at 300 degrees for 20 minutes, stirring after 10 minutes. Cool completely on pan; stir in cranberries.