Pork Tenderloin With Gingered Cranberry (Or Cherry) Sauce (5 Pt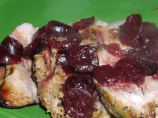 Photo by teresas
Prep Time: 3 mins
Total Time: 26 mins
Servings: 4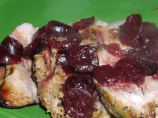 Photo by teresas
About This Recipe
"A quick scan of my recipe collection reveals my fondness for fruit sauces with poultry or pork. So when I found this one in a Weight Watchers cookbook, I was instantly taken with it. Though I will not try this until later this week, the presentation here includes my modifications. I have made this with dried cherries and it was superb, almost better than the original. If using cherries, reduce the amount of ginger a small amount. (5 points)"
Ingredients
cooking spray

1 lb lean pork tenderloin, trimmed

2 teaspoons Worcestershire sauce

1/2 teaspoon freshly cracked black pepper

1/4 teaspoon table salt

1/4 teaspoon dry mustard

Sauce

1/2 cup red wine, dry

1/2 cup orange juice

1/2 cup dried cranberries or 1/2 cup dried tart cherry

1/8 teaspoon ground cinnamon

1/2 teaspoon arrowroot

1/2 teaspoon gingerroot, peeled and minced or finely grated
Directions
Preheat oven to 425 degrees.

Drizzle tenderloin with Worcestershire sauce sprinkle with mustard, pepper and salt.

Heat a large cast iron skillet or other oven-proof pan over medium high heat. Apply a light shot of cooking spray. Sear the pork on all sides, cooking for about 3 minutes total.

Place skillet into the oven and cook for Bake at 450 degrees for 15 to 20 minutes or until a meat thermometer inserted into thickest portion of pork registers 160°F Remove from oven and let stand 5 minutes before cutting.

To prepare glaze, combine red wine, juice dried cranberries in a small saucepan. Bring to a boil and cook, uncovered, for 5 minutes, stirring frequently. Remove from heat and stir in ginger.

To serve, slice pork into 8 or 12 slices, depending on desired thickness. Divide slices onto 4 serving places and spoon a quarter of the sauce over each portion (3 ounces pork and about 2 tablespoons sauce per serving).