Vegan Dark Chocolate Cupcakes With Frosting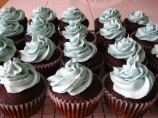 Photo by danakscully64
Prep Time: 10 mins
Total Time: 30 mins
Serves: 30, Yield: 30 cupcakes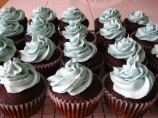 Photo by danakscully64
About This Recipe
"This recipe is fantastic and the cupcakes turn out very moist because of the applesauce. My entire family raved about them! You don't have to be a vegan to enjoy these, these are also ideal for those with egg or dairy allergies. Make sure you're using trans fat free margarine like Nucoa or Earth Balance (both vegan). This recipe can easily be cut in half as well. (Update: I changed the frosting recipe due to inconsistent results. The new one is much better, in my opinion. Recipe from Vegan Cupcakes Take Over The World)."
Ingredients
Cake

2 cups boiling water

1 cup unsweetened cocoa powder

2 3/4 cups all-purpose flour

2 teaspoons baking soda

1/2 teaspoon baking powder

1/2 teaspoon salt

1 cup margarine, softened

2 1/4 cups white sugar

3/4 cup applesauce

1 1/2 teaspoons vanilla extract

Frosting

1/2 cup shortening

1/2 cup margarine

3 1/2 cups powdered sugar, sifted

1 1/2 teaspoons vanilla extract

1/4 cup soymilk
Directions
Preheat oven to 350 degrees F (175 degrees C). Line muffin tin(s) with paper liners.

In medium bowl, pour boiling water over cocoa, and whisk until smooth. Let mixture cool. Sift together flour, baking soda, baking powder and salt; set aside.

In a large bowl, cream margarine and sugar together until light and fluffy. Beat in the applesauce, then stir in vanilla. Add the flour mixture alternately with the cocoa mixture. Pour mixture into prepared muffin cups, filling each 2/3 full. (If making a cake instead of cupcakes, use 3- 9 inch pans, coated with non-stick spray.).

Bake in preheated oven for 20 to 25 minutes (or 25-30 mins for a cake). Allow to cool.

Beat the shortening and margarine together until well combined and fluffy. Add the sugar and beat for about 3 more minutes. Add the vanilla and soy milk, and beat for another 5 to 7 minutes until fluffy. Adjust with more soy milk or confectioners' sugar if necessary. Frost cupcakes once they are completely cooled.