Fudgy Wudgy Blueberry Brownies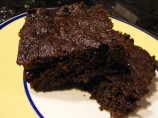 Photo by Kozmic Blues
Prep Time: 10 mins
Total Time: 55 mins
Yield: 16 brownies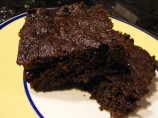 Photo by Kozmic Blues
About This Recipe
"From VEGANOMICON! These are intensely fudgey and amazing! This was one of my first attempts at vegan baking, and I am quite proud of how these turned out."
Ingredients
2/3 cup semi-sweet chocolate chips, plus

1/2 cup semi-sweet chocolate chips

10 ounces blueberry preserves ( spreadable fruit, smooth, no whole blueberries)

1/4 cup soymilk

3/4 cup sugar

1/2 cup canola oil

2 teaspoons vanilla extract

1/2 teaspoon almond extract

1 1/2 cups all-purpose flour

1/4 cup unsweetened cocoa powder

1/4 teaspoon baking powder

1/2 teaspoon baking soda

1/4 teaspoon salt

1 cup fresh blueberries
Directions
Preheat oven to 325.

Grease a 9x13 inch baking pan.

Melt 2/3 cup chocolate chips over a double boiler or in microwave, your choice.

In a large mixing bowl combine bluberry spreadable fruit, soy milk, sugar, canola oil and extracts.

Mix on high until no large clumps are visible, about 2-3 minutes.

Sift in flour, cocoa powder, baking powder, baking soda, and salt.

Stir until well mixed, batter will be thick.

Mix in melted chocolate.

Fold in remaining 1/2 cup of whole chocolate chips and fresh blueberries.

Spread batter in baking pan and bake for 45 minutes.

Toothpick test is null and void here because the whole chocolate chips will stick anyway!

Remove from oven and let cool.

Enjoy!