Prospect Park Potato Salad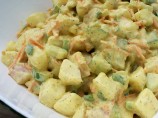 Photo by *Parsley*
Prep Time: 15 mins
Total Time: 30 mins
Servings: 12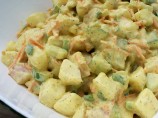 Photo by *Parsley*
About This Recipe
"This delicious vegan potato salad comes from one of my new favorite cookbooks: Veganomicon, The Ultimate Vegan Cookbook.. The recipe, as written, makes an enormous amout, but can easily be halved. I love the addition of thinly sliced cucumbers and dijon mustard to this familiar picnic favorite! This recipe calls for something called Vegenaise, which is my favorite brand of vegan mayonaise, containing no eggs."
Ingredients
5 lbs potatoes, washed and peeled

1 seedless cucumber, sliced thinly

1 cup vegan mayonnaise

1/4 cup Dijon mustard ( whole grain)

1/4 cup olive oil

1/3 cup white vinegar

2 tablespoons sugar

1 tablespoon dried dill

1 teaspoon turmeric

1 1/2 teaspoons salt ( to taste)

1 teaspoon fresh ground black pepper

1 large carrot, peeled and grated
Directions
Slice the potatoes between 1/2 and 1/4 inch thick.

If potatoes are large they can be cut into halves or thirds before slicing.

Place potatoes into large stockpot, and fill with cold water about 4 inches above the top of potatoes.

Bring to a boil for about 15 minutes or until potato can be pierce deasily with a fork.

While the potatoes boil, prepare the dressing.

If makeing the whole recipe, you will need the larges mixing bowl you have in order to add the potatoes later on.

Mix the vegan mayo, mustard, olive oil, sugar, vinegar, dill, turmeric, sal and pepper.

Wisk together briskly.

Add sliced cucumbers and place in the firdge until potatoes are ready.

When potatoes are done, drain and rise them quickly under cold water.

Be sure to shake off any excess water.

Add potatoes to the dressing and mix well.

Top with grated carrots and mix.

Check seasoning and adjust as needed.

Refrigerate until ready to serve.