Salsa Bread Strips With Avocado Salsa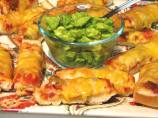 Photo by loof
Prep Time: 20 mins
Total Time: 35 mins
Servings: 6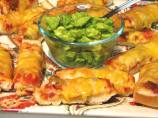 Photo by loof
About This Recipe
"A yummy recipe that I tweeked a little to my liking. Adapted from Paul Newman's Own website. Enjoy!"
Ingredients
1 loaf french 9-grain bread, sliced in half

1/4 cup extra virgin olive oil

1 teaspoon ground cumin

1 teaspoon garlic powder

1 (16 ounce) jars mild salsa ( or medium or hot salsa to taste)

1 1/2 cups shredded Mexican blend cheese ( 4 cheese blend)

1/2 cup shredded parmesan cheese or 1/2 cup queso fresco

2 avocados, diced

1 1/2 teaspoons fresh lime juice

2 teaspoons fresh cilantro, finely snipped

2 teaspoons scallions, finely chopped

1 teaspoon finely chopped garlic

1/4 teaspoon celery salt

salt
Directions
Preheat oven to 425°F.

Lay sliced French bread cut side up onto a baking sheet.

In a small bowl combine oil, cumin, and garlic powder; stir.

Brush the seasoned oil mixture onto the cut side of both bread halves with a pastry brush. Spread salsa evenly on top of bread halves. Sprinkle the halves with the Mexican cheese and top with crumbled Parmesan cheese or queso fresco cheese. Place into 425*F. oven.

Bake 8 to 12 minutes, or until cheese is melted and bread is good and crusty.

While the bread is baking, prepare the relish.

In a medium size bowl, mix avocados, lime juice, cilantro, scallions, garlic, celery salt, and salt to taste. Set aside.

Remove the bread from the oven. Allow to cool a few minutes.

Using a serrated knife, slice bread halves across into 2 inch strips.

To serve put salsa bread strips on a nice plate or platter with avocado relish in a separate bowl. Enjoy!