Italian Sun-Dried Tomato, Provolone and Pesto Torte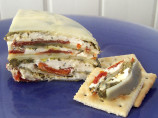 Photo by Proud Veteran's wife
Prep Time: 20 mins
Total Time: 4 hrs 20 mins
Servings: 32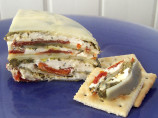 Photo by Proud Veteran's wife
About This Recipe
"My mother-in-law recently served this at our baby shower. It was a tremendous hit! Delicious flavors meld together to create a rich and creamy indulgence. Serve with toasted baguette, crackers, veggies, or whatever else you please. This looks so pretty on a serving plate - your guests won't want to touch it. But they'll be glad when they do - delish! Note: cooking time is chill time."
Ingredients
3 ounces sun-dried tomatoes

2 (8 ounce) packages cream cheese, softened

1 garlic clove, minced

9 slices provolone cheese

8 ounces pesto sauce
Directions
Bring a small saucepan of water to a boil. Turn off the heat. Place sun-dried tomatoes in the water, and cover for 5 minutes. Drain, and finely chop.

In a medium bowl, mix cream cheese and garlic.

Line a medium bowl or loaf pan with a large piece of dampened cheese cloth. Layer with 1/3 of the provolone cheese. Spread with 1/2 of the pesto. Pour in 1/2 of the cream cheese mixture. Layer with 1/2 of the sun-dried tomatoes. Layer with 1/3 of the provolone cheese, remaining pesto, remaining cream cheese, and remaining sun-dried tomatoes. Top with remaining provolone cheese.

Pull cheese cloth around the layered mixture and gently press into a bowl to mold and remove excess oil. Chill in the refrigerator for 3-4 hours. Remove cheese cloth and invert onto serving platter.

Garnish as desired with basil, sun-dried tomatoes, pine nuts, lemon wedges, olive oil, etc.

Enjoy!