Mmmm Muffins - Cheese, Spinach and Sun-Dried Tomatoes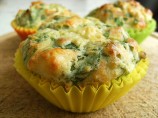 Photo by Lalaloula
Prep Time: 15 mins
Total Time: 35 mins
Servings: 10-12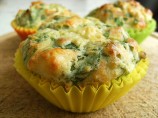 Photo by Lalaloula
About This Recipe
"A delightful savoury muffin that makes a great snack for morning/afternoon tea or a take-and-go breakfast on the run. Please use a firm style feta cheese for this recipe. Serve warm. Recipe makes 10-12 muffins.This recipe was an entry in the RSC#11 comp. You can add more feta cheese if you wish"
Ingredients
2 1/2 cups all-purpose flour

4 teaspoons baking powder

1/4 teaspoon ground cayenne pepper or 1/2 teaspoon ground black pepper

2 ounces firm feta cheese, chopped into smallish cubes ( 75 grams)

1/4 cup asiago cheese or 1/4 cup parmesan cheese, finely grated

2 eggs

1 1/2 cups milk

1/4 cup olive oil or 1/4 cup canola oil or 1/4 cup vegetable oil

7 ounces fresh spinach leaves, can use baby spinach leaves ( 200 grams)

3/4 cup sun-dried tomato, chopped
Directions
Preheat oven to 390°F (200°C) if using fan-forced oven or 420°F(215°C) if not using a fan-forced oven.

Spray a 12 muffin tray with cooking oil or grease with butter (ensure thoroughly coated). Can use paper cases to line instead of spray or butter if you wish.

Combine the flour, baking powder and pepper in a large mixing bowl. Mix thoroughly with a balloon whisk.

In another mixing bowl or a large jug - whisk the eggs, milk and oil together. Stir through the chopped spinach and the sliced sun-dried tomatoes. Gentley stir in the crumbled fetta and the finely grated asiago (or parmesan) cheeses.

Combine the wet and dry ingredients. Fold together gently -until just mixed. Do not overbeat or you will end up with 'heavy' muffins.

Spoon into the greased or paper-lined muffin pans.

Bake approx 15 - 25 minutes, until well risen and golden. Allow the muffins to cool in the pans for 5 minutes. Serve warm or reheat later.