Asparagus With Lemon-Basil Gouda Cheese Sauce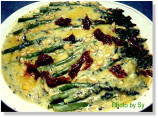 Photo by Skipper/Sy
Prep Time: 30 mins
Total Time: 50 mins
Servings: 4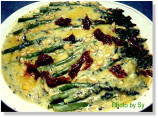 Photo by Skipper/Sy
About This Recipe
"Fresh bright green asparagus is just wonderful and adding a nice cheese and lemon flavored sauce, topped with sun dried tomatoes and pine nuts… not only is an appealing dish to the eye, but tasty as well! This recipe was made especially for the RSC# 11 contest."
Ingredients
1 lb fresh asparagus ( trim off the bottom hard part and discard)

1 teaspoon salt ( mix with 3 tablespoons water)

1/4 cup basil leaves, chopped

1 tablespoon shallot, chopped finely

1 teaspoon garlic ( garlic clove pressed)

1 pinch cayenne pepper

2 tablespoons margarine ( substitute butter)

1/4-1/2 cup chicken stock ( College Brand)

2 tablespoons cornstarch ( blend with 2 tablespoons water)

3 tablespoons lemon juice ( substitute lime juice)

2 egg yolks ( blend with 2 tablespoons water)

1/2 cup gouda cheese, grated ( substitute Asiago Cheese)

2 tablespoons pine nuts

2 tablespoons sun-dried tomatoes packed in oil, chopped
Directions
Place the asparagus in a microwave proof plate, sprinkle with salt water, use plastic wrap to cover, then reserve.

Combine the basil leaves, shallots, garlic, cayenne pepper and puree in a food blender.

In a non-stick pot place 2 tablespoons margarine, pureed basil leaves and cook briefly.

Add ¼-1/2 stock, bring to a boil, add lemon juice and salt to taste, add corn starch mixture and stir until smooth and very thick (no lumps), let cool for about a minute.

Cook the asparagus in the microwave for 3 to 3-1/2 minutes.

As the asparagus is being cooked in the microwave, add the egg yolks a little at a time to the sauce (with flame/burner turned off), blend, stirring with a whisk and make sure there are no lumps.

Remove the plastic wrap from the asparagus dish and discard the water.

Pour the sauce over the asparagus, sprinkle the grated cheese over the asparagus sauce.

Then place the plate under a broiler or in a toaster over for a minute or so in order for the cheese to melt.

Finally, sprinkle pine nuts and sun dried-tomatoes on top.

Serve and enjoy!

Note: Gouda is a mild cheese and Asiago is a stronger tasting cheese.