Paprika Chicken Stew With Potato Pierogies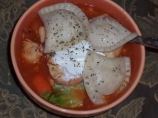 Photo by Chef Petunia
Prep Time: 20 mins
Total Time: 1 hr 5 mins
Servings: 4-6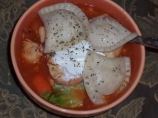 Photo by Chef Petunia
About This Recipe
"I found this Rachael Ray recipe recently and it sounds delicious. I haven't made it yet but am posting it so I'll have it handy to make when I get some pierogies and try it."
Ingredients
2 teaspoons extra virgin olive oil

1/2 lb good-quality smoky bacon, chopped into 1/2-inch pieces

2 lbs boneless skinless chicken breasts or 2 lbs boneless skinless chicken thighs, cut into chunks

salt and black pepper

1 large onion, chopped

2 carrots, peeled and grated ( or finely chopped)

3 garlic cloves, chopped

2 tablespoons sweet paprika ( Hungarian style)

1 tablespoon ground cumin

1/2 teaspoon dried marjoram or 1/2 teaspoon oregano

1 fresh bay leaves or 1 dried bay leaf

2 tablespoons olive oil

1/2 cup white wine ( we don't use wine, so I'll just increase the chicken broth by 1/2 cup more)

2 cups chicken stock

15 ounces crushed tomatoes

1/2 cup sour cream

12 frozen potato pierogies

2 tablespoons butter

1/4 cup fresh chives ( snipped or chopped)

1 lemon, zest of

1/4 cup fresh flat-leaf parsley, chopped
Directions
Place a large pot of water over high heat and bring up to a boil for the pierogies.

Meanwhile, place a large, deep skillet over medium-high heat with 2 teaspoons of the olive oil. Add the bacon and cook until just brown and crisp, 3-4 minutes. Season the chicken with salt and pepper, add to the skillet with the bacon, and brown all sides, 7-8 minutes. Add the onions, carrots, garlic, paprika, cumin, marjoram or oregano, and bay leaf and cook for 5-6 minutes, until the veggies are just tender.

Make a well in the middle of the pan and add 2 tablespoons olive oil. Add the flour to the olive oil and mix to form a paste. Add the wine (or 1/2 cup chicken broth), scraping up all of the brown bits on the bottom of the pan. Add 2 cups chicken stock and the tomatoes and cook for about 20 minutes, until the stew has thickened. Stir in the sour cream and remove from the heat.

While the stew is cooking, cook the pierogies in boiling water according to the package directions. Heat a medium skillet over medium-high heat, add the butter and cook until the butter turns slightly brown and gives off a nutty aroma. Drain the cooked pierogies, add them to the pan, and cook until slightly browned on both sides, about 2 minutes per side. Add the chives and turn the pierogies to coat.

Serve the stew in large bowls, sprinkled with lemon zest and parsley. Arrange 2-3 pierogies on top of each bowl of stew.