Pork Chops Smothered in Caramelized Onions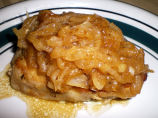 Photo by Julie B's Hive
Prep Time: 15 mins
Total Time: 45 mins
Servings: 2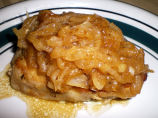 Photo by Julie B's Hive
About This Recipe
"I created this dish for my husband, as he loves the flavor of deeply caramelized onions. It was a big hit and is sure to become one of our regular meals. I served it with homemade applesauce and skillet country potatoes. Yummm!"
Ingredients
2 boneless pork chops, with as much fat removed as possible

1/2 teaspoon garlic powder

1/4 teaspoon ground sage

1/4 teaspoon ground thyme

1/4 teaspoon salt

1/4 teaspoon black pepper, freshly ground

3 tablespoons butter

1 cup onion, thinly sliced

2 teaspoons sugar
Directions
Season both sides of pork chops with garlic powder, sage, thyme, salt and pepper.

Melt 2 tbs. butter in a large skillet over medium heat, evenly coating the bottom of the skillet.

Increase heat to medium-high. Cook both sides of chops for 10-15 minutes until lightly browned. (Note: It is okay if the chops are not completely done, as there is more cooking time to come.).

Push chops to outside edges of skillet. Melt the remaining 1 tbs. butter in the center of the skillet and add onions to the center of the skillet, sprinkling with sugar.

Replace skillet cover and cook for 10 minutes, frequently tossing and stirring onions with a spatula. Onions are caramelized when tender and medium-brown in color. My husband prefers cooking them until slightly burned, as the flavor intensifies. (Note: Don't forget to watch your chops to make sure they don't burn.).

Check chops for doneness before serving. They will be done when a fork piercing the thickest part of the chop draws clear juice. If the juice is pink, cook chops a bit longer until done. (Note: Make sure to watch onions, so they don't burn.).

Serve pork chops with caramelized onions piled on top.