Meatball Vegetable and Barley Soup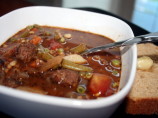 Photo by **Tinkerbell**
Prep Time: 30 mins
Total Time: 1 hr 10 mins
Servings: 8-12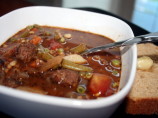 Photo by **Tinkerbell**
About This Recipe
"My daughter loves meatballs and she loves barley soups so I came up with this on a cold and rainy winter day in Sacramento. It is rich and flavorful."
Ingredients
Meatballs

1 lb lean ground beef

1 lb breakfast sausage

1/2 cup breadcrumbs

1 (2 ounce) packages onion soup mix

1/2 cup grated parmesan cheese

2 tablespoons Worcestershire sauce

1 tablespoon hoisin sauce

1/2 teaspoon ground black pepper

Soup

1/4 cup red wine (optional)

6 cups beef broth ( water and bullion are acceptable)

3/4 cup barley

1 large onion, diced

4 large garlic cloves, minced

2 tablespoons dried oregano

1 tablespoon dry basil

3 large potatoes, diced

3 large carrots, sliced

4 stalks celery, sliced

1 (15 ounce) cans peas

1 (15 ounce) cans green beans

1 (15 ounce) cans diced tomatoes

1 cup frozen corn

2 tablespoons hoisin sauce
Directions
Throughly mix together all of the meatball ingredients with your hands; shape into bite size meatballs.

Brown meatballs 1/2 at a time in a little cooking oil in a large frying pan (browning gives them more flavor then just tossing them into the soup); remove to a large stock pot.

Add the diced onion and wine (you can use broth or water instead of wine if desired) to the frying pan that you used to browned the meatballs.

De-glaze (gently loosen and stir up the browned bits on the bottom of the pan by stirring with a whisk or spatula) the pan using the onions and wine until onions are caramelized and browned; add to the meatballs in your soup pot.

Add beef broth, garlic, oregano, basil and barley to the soup pot; simmer 20 minutes.

Add fresh vegetables to the soup; simmer for 15 minutes.

Add canned vegetables and corn to the soup; bring to a boil and stir in hoisin sauce.