Spicy Stir Fry Tofu With Peanut Sauce W/ Snow Peas and Mushrooms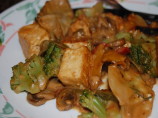 Photo by mikey & ev
Prep Time: 15 mins
Total Time: 30 mins
Servings: 4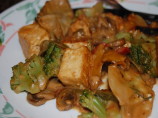 Photo by mikey & ev
About This Recipe
"So yummy and healthy. I used a mix of frozen veggies (thawed) and sliced button mushrooms instead of the suggested vegetables."
Ingredients
1 (14 ounce) packages extra firm tofu, drained and cut into 1-inch cubes

2 teaspoons canola oil

3/4 lb snow peas, trimmed

1 cup red bell pepper, sliced into strips

3/4 cup water, divided

1/2 cup green onion, sliced

2 teaspoons fresh ginger, peeled and minced

2 garlic cloves, minced

3 cups shiitake mushrooms, sliced ( about 8 ounces)

2 tablespoons reduced sodium soy sauce or 2 tablespoons soy sauce

2 tablespoons creamy peanut butter

1 teaspoon cornstarch

2 teaspoons sriracha sauce

1/4 teaspoon salt
Directions
Place tofu cubes on several layers of paper towels. Cover with additional paper towels; let stand 5 minutes.

Heat oil in a large nonstick skillet over medium-high heat.

Add tofu to pan; cook 7 minutes or until lightly browned, gently turning occasionally.

Remove from pan; keep warm.

Add snow peas, bell pepper, 1/4 cup of water, onions, ginger, and garlic to pan; stir-fry 3 minutes.

Add mushrooms; stir-fry 2 minutes.

Combine remaining 1/2 cup water, tamari, peanut butter, cornstarch, sriracha, and salt in a small bowl; stir well.

Add tamari mixture and tofu to pan; cook 1 minute or until thickened, stirring constantly.

Serve warm over rice or noodles; or chilled.