Chef Joey's Cream of Cauliflower Soup (Crock Pot)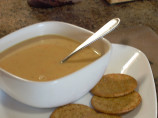 Photo by Chef Joey Z.
Prep Time: 30 mins
Total Time: 4 hrs 30 mins
Servings: 8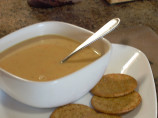 Photo by Chef Joey Z.
About This Recipe
"This soup has quite a unique taste. It's creamy and delicious. I think a nice piece of home made bread or some crackers would set this dish off perfectly. I used organic veggies as I believe that not only is the taste superior, but they are definitely better for you."
Ingredients
1 medium head cauliflower ( cut in chunks)

1 medium potato ( cubed)

1 (32 ounce) boxes low sodium chicken broth ( veggie or chicken will work here)

1 (14 ounce) cans organic cream of chicken soup

1 tablespoon Earth Balance margarine

1 cup silk coffee creamer ( plain)

2 bay leaves

1 cup non-dairy milk substitute ( I used rice)

1 medium carrot, shredded

1/4 teaspoon garlic powder

2 cups shredded vegan cheddar cheese

1/4 teaspoon paprika
Directions
Chop up your head of cauliflower in medium chunks. In a large sauce pan combine the cauliflower, cubed potato, broth, margarine and cream of chicken soup.

Bring to a boil and simmer covered for 20 minutes or until the cauliflower is tender. Using a hand blender process the cauliflower mixture to a smooth puree.

Transfer to a 5 quart or larger slow cooker.

Next add the silk creamer, milk, shredded carrot, garlic powder, and two bay leaves.

Cover and cook on low for 3 1/2 hours.

Remove the bay leaves.

Remove the soup once the time is up and puree it again, then return to the slow cooker and add the cheese. Let simmer until the cheese is melted.

Garnish with paprika.

Bon Appetit!