Confetti Chicken Big Bowl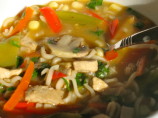 Photo by Chicagoland Chef du Jour
Prep Time: 30 mins
Total Time: 45 mins
Servings: 4-6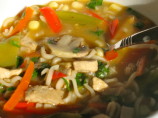 Photo by Chicagoland Chef du Jour
About This Recipe
"Oh YUM! This recipe is Thai inspired. I have even served it to my Thai DIL and she loved it. The original recipe is from BHG, April 2002, $400 winner! I have made adjustments and rearranged the directions so that the veggies are not overcooked."
Ingredients
1 lb boneless skinless chicken breast, less works

2 tablespoons cooking oil

8 garlic cloves, minced

4 teaspoons ginger, minced

1 tablespoon red curry paste

1 teaspoon ground cumin

5 cups water

1 (14 ounce) cans reduced-fat unsweetened coconut milk

2 carrots, course shred

2 cups small broccoli florets ( *I do not use)

1 medium red sweet bell pepper, cut into bite-sized strips

2 (3 ounce) packages chicken-flavored ramen noodles, broken with flavor packets

2 cups snow peas, halved

1 tablespoon low sodium soy sauce

4 tablespoons lime juice

1 bunch fresh basil, slivered, set aside

1/3 cup fresh cilantro (optional)

1/2 cup frozen corn kernels
Directions
Cut chicken into 1" cubes.

In a 4 quart Dutch oven, over medium heat, add 1 T oil and cook chicken until no longer pink and lightly brown, about 3-4 minutes. Remove cicken from pan and set aside.

Add remaining oil to pan, add garlic, ginger, curry paste, and cumin, cook and stir for 30 seconds. *WATCH THE FUMES*.

Stir in coconut milk, water, lime juice, flavor packets, soy sauce, carrots, corn and red bell peppers. Add cooked chicken. Stir. Continue cooking until veggies crispy tender for about 3-5 minutes.

Add broken noodles. When they become tender in about 5 minutes, add pea pods, basil and cilantro.

Serve immediately.