Crusted Macaroni & Cheese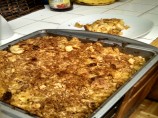 Photo by Chef #1803223875
Prep Time: 30 mins
Total Time: 1 hr
Servings: 10-12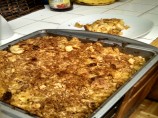 Photo by Chef #1803223875
About This Recipe
"A family favorite. Great for get-togethers. No idea where I got the recipe from, but I've been using it for 10 years! Works well frozen too."
Ingredients
Casserole

1 1/2 lbs elbow macaroni

4 tablespoons butter

5 garlic cloves, minced

3 tablespoons flour ( whole wheat flour works here)

1/4 teaspoon Tabasco sauce

3 cups milk

1/2 cup cream or 1/2 cup evaporated milk

4 cups grated cheese ( cheddar, colby jack, mozzarella, etc ... a combination works best)

1 teaspoon seasoning salt

1/2 teaspoon fresh ground pepper

1/2 teaspoon dry mustard

Crust

4 tablespoons butter, melted

2 cups crushed croutons

3/4 cup parmesan cheese

2 tablespoons chopped parsley
Directions
Boil pasta. While pasta is boiling, make the sauce. Once pasta is done, drain & set aside.

To make the sauce, in a saucepan, saute the garlic in buttter for 1 minute.

Add flour & stir until light brown.

Stirring, add milk, tabasco & cream (or evap milk).

Heat through & add cheese, salt, pepper & mustard. Stir until all cheese is melted.

Mix with the macaroni & pour into a 9x13 baking dish.

Mix the crust ingredients & spread over the pasta.

Bake at 375 for 30 minutes.