Very Tangy Lime (Or Lemon) Bars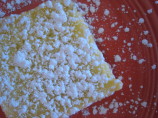 Photo by hisfavoritemavis
Prep Time: 30 mins
Total Time: 1 hr 25 mins
Serves: 16, Yield: 16 bars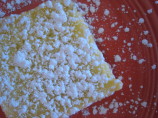 Photo by hisfavoritemavis
About This Recipe
"This recipe is out of a cookbook called "Pure Dessert" by Alice Medrich. The emphasis is on "pure flavor," or, in this case, "pure lime" (a half cup mind you). Yum. The crust is buttery, delicious, crunchiness, underneath it all."
Ingredients
For the crust

8 tablespoons unsalted butter, melted

1/4 cup sugar

3/4 teaspoon pure vanilla extract

1/4 teaspoon salt

1 cup all-purpose flour

For the topping

1 cup sugar

2 tablespoons sugar

3 tablespoons all-purpose flour

3 large eggs

1 1/2 teaspoons finely grated lime zest or 1 1/2 teaspoons lemon zest

1/2 cup strained fresh lime juice or 1/2 cup lemon juice

powdered sugar, for dusting
Directions
Place rack in lower third of over and preheat to 350 degrees. Line the bottom and sides of an 8" square baking pan with foil.

To make the crust, in a medium bowl, combine the melted butter with the sugar, vanilla, and salt. Add the flour and mix just until incorporated.

Press the dough all over the bottom of the pan. Bake for 25 to 30 minutes, until well browned on the edges and golden brown in the center.

To make the topping, in a large bowl, stir together the sugar and flour. whisk in eggs. stir in lemon juice and lime zest.

When crust is ready, turn oven down to 300 degrees. Slide the rack out (with pan on it) and pour filling onto hot crust.

Bake for 20 to 25 minutes, or until the center no longer jiggles.

Lift the foil liner out and transfer bars to cutting board. You can blot the surface of the bars to remove any foam. (Test to make sure your bars aren't to sticky first. This trick could remove a lot more than excess foam -- ).

Cut into bars. Dust with powdered sugar right before serving. Will keep in airtight container for up to a week.