Vegetables and Small Shells Soup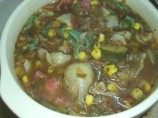 Photo by Karen Elizabeth
Prep Time: 25 mins
Total Time: 1 hr 25 mins
Servings: 12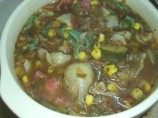 Photo by Karen Elizabeth
About This Recipe
"This soup is a "somewhat Minestrone" its easy, elegant and very tasty and goes a long way - made this for the office and it was gone in minutes....try it let me know what you think"
Ingredients
1 1/2 cups onions ( diced)

1 cup carrot ( diced)

1 cup celery ( diced)

3 tablespoons garlic ( minced adjust to taste)

1 cup mushroom ( sliced)

12 cups chicken stock (I used turkey) or 12 cups turkey stock (I used turkey) or 12 cups beef stock ( I used turkey)

2 bay leaves

2 teaspoons italian seasoning

1 teaspoon basil

14 1/2 ounces diced tomatoes

2 cups corn

1 1/2 cups zucchini ( diced)

1 1/2 cups cannellini beans

1 1/2 cups red kidney beans

2 cups pasta ( small shells uncooked)
Directions
The key is a flavorful stock - refer to my stock recipes for tips if needed - store bought may be resorted to and my tip would be low sodium - low fat - College Inn or Swansons.

In a large soup pot add 1 tbsp olive oil - add the first 4 ingredients and saute till onions are clear. Add mushrooms and add salt and pepper to taste. Add bay leaves, herbs, stock and simmer over medium heat for 45 minutes.

Add remaining ingredients, including shells cook for 10-15 minutes (add a cup or two of water if you think the soup is to thick - the shells do take up some moisture as they are cooked into the soup) and remove from heat - serve with a slice of crusty bread and some fresh grated parmesan cheese.