Creamy Corn and Spinach Enchiladas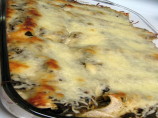 Photo by atxfoodies
Prep Time: 20 mins
Total Time: 50 mins
Servings: 6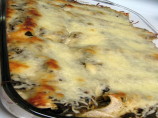 Photo by atxfoodies
About This Recipe
"A friend of mine ordered corn enchiladas while we were out to lunch last weekend. I wasn't in the mood for it at the time but later that day I though it seemed like the perfect way to use some of the Hatch chile I have in the freezer. I had some left over spinach so I decided to throw that in as well."
Ingredients
1 tablespoon olive oil

1 large yellow onion, diced

1/2 teaspoon salt

1 teaspoon black pepper

1 (16 ounce) packages frozen sweet corn

1/2 cup roasted hatch new mexico green chili pepper, diced ( leave the seeds in if you want extra heat)

1 bunch spinach

1 (8 ounce) packages light cream cheese, softened

1 (8 ounce) packages light sour cream ( reserve half for topping after baked)

1 -2 tablespoon fresh cilantro, finely chopped ( this is about a handful unchopped)

1 teaspoon ground cumin

1 teaspoon garlic powder

1/2 teaspoon salt

12 corn tortillas

1 (16 ounce) jars green tomatillo sauce

12 ounces monterey jack cheese, shredded
Directions
Saute onion in large skillet until soft. Add salt and pepper to onion while sauteing. In a large bowl, defrost corn in microwave and drain well. Return to large bowl.

Add diced Hatch chile to corn.

Add spinach to sauteing onions and cook down, about 5 minutes.

Add softened cream cheese, 4 oz of sour cream, chopped cilantro, cumin, garlic powder, salt, and onion / spinach mixture to corn and Hatch chile and mix well.

Lightly grease 9x13 baking dish with olive oil.

Fill each tortilla with 2 or 3 large spoonfuls of corn / spinach mixture. Roll tortillas and line in baking dish. (It may help to warm tortillas in kitchen clothes for 30 seconds in the microwave to ease rolling. Also, I was able to fit 8 across and 4 down in my baking dish.).

Add tomatillo sauce to cover rolled enchiladas and cover with cheese.

Bake at 350 for about 30 minutes or until brown on top.