Easy, Healthy Vegetarian Lasagna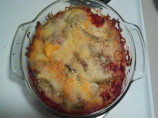 Photo by Michelle barclay
Prep Time: 15 mins
Total Time: 55 mins
Servings: 12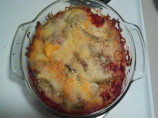 Photo by Michelle barclay
About This Recipe
"Simple to make and very tasty. It freezes amazingly well (largely because of how juicy it is...see Note below). One thing to note about this recipe is that the primary flavor is of fresh, delicious vegetables. I highly recommend not skimping on: salt, pepper, or garlic unless you are going to doctor it with your own spices. I sometimes throw in some dried oregano or some red pepper flakes. Enjoy!"
Ingredients
9 lasagna noodles ( cooked as directed on box...usually 8-9 minutes)

1417.47 g pasta sauce ( 2 jars)

2 medium zucchini ( sliced thinly)

2 roma tomatoes ( sliced thinly)

1 red bell pepper ( sliced thinly, vertically)

1 medium red onion ( sliced thinly)

10 white button mushrooms ( sliced thinly)

1 small head of broccoli ( stem removed, cut into small pieces)

10 leaf basil ( thinly sliced)

283.49 g mozzarella cheese ( shredded)

56.69 g parmigiano-reggiano cheese ( shredded or grated)

396.89 g fat-free ricotta cheese

2 medium eggs

3 garlic cloves ( minced or pressed)

170.09 g spinach

salt and pepper
Directions
Preheat oven to 375°F.

In a large bowl combine spinach, ricotta cheese, eggs, garlic, and salt and pepper to taste.

In a deep 9x13 lasagna pan, add a few oz of the pasta sauce to lightly coat the bottom. Add 3 lasagna noodles to cover the bottom of the pan with out overlapping the noodles.

Add half the ricotta/spinach mixture by dolloping it onto the noodles, sprinkle zucchini, tomato slices, broccoli, onion, mushrooms and bell pepper slices. Add 20 or so oz (the rest of the first jar of pasta sauce), covering the veggies.

On the next layer, add 3 more lasagna noodles, the other half of the spinach and ricotta mixture, the rest of the veggies, and half a jar of pasta sauce.

Then, to finish it off, layer the remaining lasagna noodles, the rest of the pasta sauce, and the parmigiano-reggiano cheese as well as the mozzarella.

Bake in the oven for 40-50 minutes until cheese begins to brown and bubble. Let sit for 10 minutes after removing from oven to allow liquids to be reabsorbed by veggies.

NOTE: As mentioned in the comments, this is a very thick lasagna and there is often a lot of liquid in the pan. It is best to let the lasagna sit for 10 minutes after removing from the oven to let it absorb some of the liquid. Adding salt to remove liquid as suggested is a great idea if you plan on eating the entire lasagna the day it is made/soon after. However, this lasagna freezes and reheats VERY well and that is largely because the excess liquid when it is originally made helps keep the lasagna moist after being reheated in the microwaving process. Another way to reduce the amount of liquid is to use the type of noodles that you don't have to pre-cook, however, I prefer the texture of the ones that need precooking.