Salmon With Ginger & Green Onions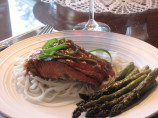 Photo by Bonnie G #2
Prep Time: 5 mins
Total Time: 12 mins
Servings: 4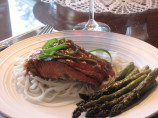 Photo by Bonnie G #2
About This Recipe
"Found this in a Good Housekeeping magazine under "good health". We love Salmon and thought this sounded good. Haven't tried it yet, but will once the Salmon start to run again. It sounds pretty simple and quick, yet a nice blend of flavors. Edited to say I fnally got around to making this. Wonderful blend of flavors, but must say I could not bring myself to nuke DH's fresh caught salmon so grilled it on a cedar plank and brushed the marinade over it. The left over marinade we poured over the salmon and noodles when serving a turned out great."
Ingredients
8 ounces rice noodles, vermicelli style, thin

4 green onions

1 teaspoon sesame oil

2 tablespoons low sodium soy sauce

2 tablespoons water

2 teaspoons fresh ginger, peeled & grated

4 (6 ounce) salmon fillets
Directions
Prepare noodles as label directs.

Thinly slice dark-green tops from green oinions and reserve for garnish; cut remaining white and light-green parts into 1/2 inch pieces.

In 9 inch glass pie plate, toss green onion pieces with sesame oil. Cover and cook in microwave oven on high 2-3 minutes or until green onions are tender.

Stir soy sauce, water and ginger into green onions in pie plate; top with salmon, skin side up, with thinner ends toward center. Cook, covered, 2 minutes.

To serve, divid noodles among 4 shallow bowls; tow with salmon, liquid from pie plate and reserved green onion tops for garnish.