Tian (Provencal Baked Vegetables)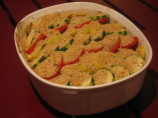 Photo by L-Burden
Prep Time: 45 mins
Total Time: 1 hr 10 mins
Servings: 6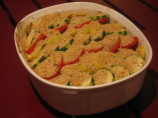 Photo by L-Burden
About This Recipe
"I got this recipe from a French exchange student who is staying with my parents for the year. I tried making it myself, and it is delicious! The dish contains every color of the rainbow and is as nice to look at as it is to eat. I add yellow squash to mine as well just to give more color."
Ingredients
1 eggplant, sliced

salt

2 onions, thinly sliced

2 sweet red peppers, seeded and sliced

4 garlic cloves, minced

6 tablespoons olive oil, divided

2 large zucchini

3 large tomatoes

fresh ground black pepper

1 teaspoon dried thyme

1 teaspoon dried rosemary

3 tablespoons breadcrumbs

2 tablespoons parmesan cheese, grated
Directions
Put eggplant slices in a colander and sprinkle with salt. Leave for 30 minutes to exude their bitter juices. Rinse well under running cold water and pat dry.

Preheat oven to 375 degrees.

Saute the sliced eggplant with the onions, sweet peppers, and garlic in 4 tablespoons of olive oil until golden.

Spread the misture over the base of a shallow, ovenproof dish.

Using a potato peeler, remove some of the peel in strips from the sides of the zucchini, leaving some vertical stripes of green.

Slice the zucchini thinly. Slice the tomatoes. Arrange the zucchini and tomato slices in alternate rows over the top of the sauteed vegetable misture, overlapping like fish scales.

Season to taste with salt and pepper and sprinkle rosemary and thyme.

Bake in oven at 375 degrees for 25 minutes, until golden.

Remove the dish from the oven and sprinkle with the bread crumbs and Parmesan. Drizzle a little more olive oil over the top if you wish.

Bake for a further 10 minutes until crisp and golden. Eat hot, warm, or cold.