Chicken Waldorf Sandwiches (Diabetic)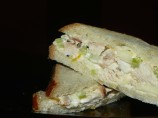 Photo by Baby Kato
Prep Time: 15 mins
Total Time: 30 mins
Servings: 6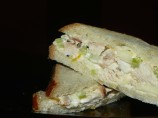 Photo by Baby Kato
About This Recipe
"From diabeticrecipes.com, this looks really good."
Ingredients
4 boneless skinless chicken breast halves, about 6-ounces each

1 (14 ounce) cans fat-free chicken broth, use enough to cover the chicken

1/4 cup fat-free mayonnaise

1/4 cup nonfat sour cream

2 teaspoons orange zest, grated

3 tablespoons fresh orange juice

1 medium granny smith apple, peeled, cored, diced

2 celery ribs, cut into 1/4-inch dice

12 slices whole wheat bread, artisan-style, sliced thin

6 boston lettuce leaves
Directions
Place the chicken breasts in a pan and cover with broth.

Bring to a simmer and cook until done, about 8 to 10 minutes.

Allow to cool in the broth, then cut into small dice.

In a small bowl mix together the mayonnaise, sour cream, orange zest, and juice.

Add the dressing to the chicken.

Stir in the apple and celery.

Place a leaf of lettuce on each of 6 slices of bread.

Top with chicken salad and top with a second piece of bread.

Refrigerate wrapped in plastic wrap, until ready to serve.

Cut each sandwich in half.

Exchanges Per Serving: 3 Very Lean Protein, 2 Carbohydrate (Bread/Starch).

Nutrition Facts: 286 calories (11% calories from fat), 34 g protein, 4 g total fat (0.4 g saturated fat), 30 g carbohydrate, 2 g dietary fiber, 67 mg cholesterol, 479 mg sodium.