Low-Fat Crispy Chicken Wings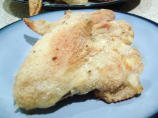 Photo by Kim127
Prep Time: 10 mins
Total Time: 35 mins
Servings: 4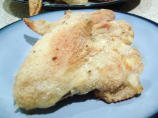 Photo by Kim127
About This Recipe
"These chicken wings are a family favourite - as the name suggests - crispy"
Ingredients
1 cup self raising flour

1 teaspoon onion salt

1 teaspoon chicken salt

2 teaspoons lemon pepper

1 teaspoon white pepper

1/4 teaspoon cayenne pepper

1/4 teaspoon black pepper

1/2 teaspoon dried herbs

2 kg chicken wings

olive oil flavored cooking spray
Directions
Preheat oven to 220°C.

Line 2 baking trays with baking paper.

Prepare the chicken wings by taking off the tip and cutting them in half at the joint (this does not have to be done, but I always do my wings this way).

Combine all the dry ingredients in a large plastic bag.

Spray the wings with oil.

Add about a third of them to the flour mixture and shake until well coated.

Place on prepared baking trays.

Repeat with remaining ingredients.

Spray chicken with oil again.

Bake for 25-35 minutes or until crisp and cooked through.

Serve with fries or salad.