Roast Pork Tenderloin With Sun-Dried Tomato-Chipotle Rub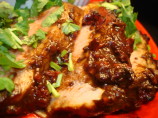 Photo by Vicki in CT
Prep Time: 10 mins
Total Time: 35 mins
Servings: 3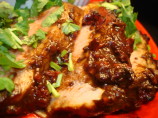 Photo by Vicki in CT
About This Recipe
"I found this cutting from the Chicago Tribune lying around and decided to try it. The rub adds a pleasant but not overwhelming heat to the pork, and an added plus is that it's really fast to make on those busy nights we all seem to have. The rub makes enough for two tenderloins, but also try mixing some of it with mayonnaise for a delicious spread on your sandwiches, in chicken salad and the like."
Ingredients
1/2 cup sun-dried tomato, packed in oil

1 canned chipotle chile, from can with adobo

3 tablespoons fresh orange juice

2 tablespoons balsamic vinegar

2 garlic cloves, crushed

1 1/2 teaspoons sugar

1/2 teaspoon salt

1 pork tenderloin, about 1 lb whole

chopped cilantro
Directions
Preheat oven to 400 deg. F.

Put tomatoes, chile, orange juice, vinegar, garlic, sugar and salt in blender or food processor. Blend to a coarse paste.

Place tenderloin in baking dish and rub all over with about 3 tbl. of the rub.

Roast until internal temperature reaches 140 deg., about 20 minutes. Remove to a cutting board and let rest five minutes.

Slice thinly and place on plates, along with any juices. Sprinkle with cilantro and serve.

Note1: Leftover rub keeps for a couple of weeks. Try it on seafood or poultry, or, as noted above, mixed with mayonnaise.

Note2: I had only plain dried sun-dried tomatoes. I let them sit overnight in some olive oil, and fished them out, saving the oil for salad dressing - I did not think the paste needed more oil then was on the tomatoes.

Note3: My tenderloin was room temperature and it was done in 15 minutes, so I would recommend checking early. Also, original recipe suggests 3 to 4 servings. There were just two of us, and I have barely enough left for a sandwich, so be guided.