Beef and Zucchini Pasta Skillet Meal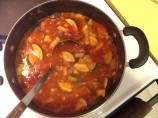 Photo by seal angel
Prep Time: 15 mins
Total Time: 40 mins
Servings: 6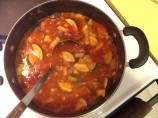 Photo by seal angel
About This Recipe
"All in one dish without the need to cook pasta in a separate pan. It has been a hit with my family. I found this recipe from the Family Circle magazine and adjusted to meet our family's tastes. They estimated that each serving costs less than $2 per serving (from 2006 estimates)."
Ingredients
1 lb sirloin steak ( cut into 1-inch cubes)

1 teaspoon steak seasoning ( spicy flavor)

2 tablespoons canola oil ( divided)

1 small vidalia onion ( sliced thin)

2 garlic cloves ( minced)

2 (15 1/2 ounce) cans beef broth ( low fat and low sodium)

1 (15 ounce) cans tomato sauce

1/2 lb ditalini ( or other long tubular pasta)

2 zucchini ( diced into 1/4 inch cubes)

2 Italian tomatoes ( diced)

basil ( to taste)
Directions
Cut steak into 1-inch cubes.

Season with the spicy steak seasoning.

In large non-stick skillet, heat 1 tablespoon of oil over medium-high heat.

Add steak and cook until browned all over (approximately 3-5 minutes).

Remove steak to a plate and cover to keep warm.

Add and heat the remaining 1 tablespoon of oil in skillet.

Add thinly sliced onion and minced cloves of garlic - saute 5 minutes.

Add beef broth and tomato sauce and bring to a boil.

Add pasta and cover skillet.

Simmer for 8 minutes - stirring often.

Add thickly diced (1/4 inch) zucchini and cook covered until zucchini is crisp-tender (approximately 6-8 minutes).

Return steak to skillet and add diced tomatoes.

Heat everything through for 1 minute.

Top with basil (to your taste) before serving.