Green Bean Casserole by Wlw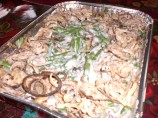 Photo by JsBride
Prep Time: 45 mins
Total Time: 1 hr 5 mins
Servings: 8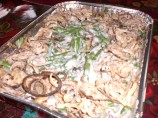 Photo by JsBride
About This Recipe
"I made this for the first time for Thanksgiving 07, and my aunt said before we left that I had to make it again for Christmas dinner (at her house). Don't be scared by the amount of ingredients or work - it's really quite easy and quick to make, and the taste is so much better than making it with pre-made ingredients. I doubled the recipe in the picture."
Ingredients
For the topping

2 medium onions, thinly sliced

1/4 cup all-purpose flour

2 tablespoons breadcrumbs, I use the ones that have italian seasoning mixed in

1 teaspoon salt

nonstick cooking spray

For beans and sauce

2 tablespoons salt, divided

1 teaspoon salt, divided

1 lb fresh green beans, rinsed trimmed and cut in half

2 tablespoons unsalted butter

12 ounces white mushrooms, trimmed and cut into 1/2-inch pieces

1/2 teaspoon fresh ground black pepper

2 garlic cloves, minced

1/4 teaspoon freshly ground nutmeg

2 tablespoons all-purpose flour

1 cup chicken broth

1 cup half-and-half
Directions
Preheat the oven to 475 degrees F.

Separate the rings in the onions, then combine the flour, bread crumbs and salt in a large mixing bowl, add the onion rings a handful at a time and toss to combine, until all have been coated.

Coat a sheet pan with nonstick cooking spray and evenly spread the onions on the pan.

Place the pan on the middle rack of the oven and bake until golden brown, approximately 30 minutes. Toss the onions 2 to 3 times during cooking. Once done, remove from the oven and set aside until ready to use. Turn the oven down to 400 degrees F.

While the onions are cooking, prepare the beans. Bring a gallon of water and 2 tablespoons of salt to a boil in an 8-quart saucepan. Add the beans and blanch for 5 minutes. Drain in a colander and immediately plunge the beans into a large bowl of ice water to stop the cooking. Drain and set aside.

Melt the butter in a 12-inch cast iron skillet (or a regular skillet if you don't have a cast iron one) set over medium-high heat. Add the mushrooms, 1 teaspoon salt and pepper and cook, stirring occasionally, until the mushrooms begin to give up some of their liquid, approximately 4 to 5 minutes. Add the garlic and nutmeg and continue to cook for another 1 to 2 minutes. Sprinkle the flour over the mixture and stir to combine. Cook for 1 minute. Add the broth and simmer for 1 minute. Decrease the heat to medium-low and add the half-and-half. Cook until the mixture thickens, stirring occasionally, approximately 6 to 8 minutes. Sometimes I need to add another tbsp of flour at this point to help the mixture thicken.

Remove from the heat and stir in 1/4 of the onions and all of the green beans. If using a cast iron skillet simply top with the remaining onions and follow next step - if using a regular skillet transfer mixture to an 8x8 glass or metal pan, then top with remaining onions and follow next step.

Place into the oven and bake until bubbly, approximately 15 minutes. Remove and serve immediately.

OAMC: if making this ahead of time follow instructions for the onions, cook green beans and cook sauce, but do not mix onions and green beans in the sauce until about to eat - Can be made up to 2 days ahead before finishing cooking. When ready to serve heat up sauce and add 1/4 of the onions, add the green beans, top with remaining onions and bake as directed.