A New Yorker's Real Italian Cheesecake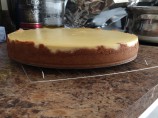 Photo by Kesha C.
Prep Time: 45 mins
Total Time: 4 hrs 45 mins
Serves: 12, Yield: 12 slices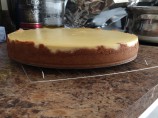 Photo by Kesha C.
About This Recipe
"WARNING: once you eat this you will NEVER be able to eat any other cheesecake as long as you live! But it is so worth it! YUMMY! As I cheesecake lover, I am almost bummed to have eaten this because after tasting it no other cheesecake ever compares to its superior taste!"
Ingredients
FOR CRUST

10 sheets graham crackers, sheets ground in a food processor to texture of fine crumbs ( should be a little over 1 cup total)

1 1/8 tablespoons sugar

4 1/2 tablespoons melted butter

FOR BATTER

24 ounces ricotta cheese

16 ounces cream cheese, softened

1 cup sugar

6 eggs

6 tablespoons flour

8 ounces sour cream

1 1/2 teaspoons vanilla extract
Directions
Preheat oven to 325°F.

Wrap the outside of a 10-inch springform pan with foil to prevent water from seeping in while baking.

Mix sugar, crumbs, and melted butter together well to form crust.

Press this mixture into the bottom of the springform pan and up the sides until you run out.

Bake crust for about 7-10 minutes or until golden brown.

Cool on wire rack while preparing the batter.

With a mixer, cream together ricotta cheese, cream cheese, flour, and sugar until very smooth.

Mix in the eggs one at a time, blend well but DO NOT OVER MIX THE BATTER!

Stir in the sour cream and vanilla by hand.

Pour mixture into cooled crust.

Place cheesecake into a large rectangular pan filled with about 1 1/2 inches of hot water.

Make sure foil is high enough around the springform pan so that no water seeps into it while baking.

Bake for 90 minutes.

After 90 minutes, turn oven off but leave cake in oven for another 60 minutes (DO NOT OPEN OVEN DOOR).

Carefully remove cake from water pan and remove foil from springform pan.

Cool on wire rack for 1 hour.

Cover cake with plastic wrap and chill in refrigerator overnight.

Enjoy!