Fresh from the Garden Skillet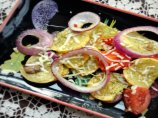 Photo by Andi of Longmeadow Farm
Prep Time: 20 mins
Total Time: 40 mins
Servings: 6-8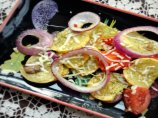 Photo by Andi of Longmeadow Farm
About This Recipe
"A friend gave me this recipe and I tweaked to meet my family's tastes. Mind you they do not like plain zucchini but mixed with breads, other veggies, and soups--well let's just say kitchen Witchery. Super easy to make and smells great."
Ingredients
1 -2 small zucchini

1 small yellow squash

1 red onion

1 head garlic ( I use more because we love garlic)

1 teaspoon kosher salt

2 teaspoons pepper

3 -5 medium tomatoes

1/2 lb mozzarella cheese, sliced

2 tablespoons butter or 2 tablespoons margarine

2 tablespoons olive oil ( can use vegetable or any kind oil)

fresh herb ( I use basil, chives, Greek oregano)
Directions
Cut all veggies 1/4 -1/2 inch thickness (make sure all uniform).

In electric skillet melt butter and blend in oil.

Crush garlic and brown slightly, add in and.

Sauté veggies until al dente.

Add herbs, salt and pepper to taste.

Top with mozzarella until just melted.

Serve and enjoy.

*** I taste and cook together so measurements for S & P, herbs, and garlic will depend on your taste, diet restrictions and what you are serving with.

Can easily be a main meal for vegetarians.

Cooking time varies as I do the prep ahead of time and then cook for the dinner.