Two 12-Inch Good and Easy Pepperoni Pizzas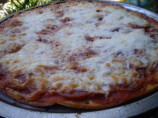 Photo by breezermom
Prep Time: 20 mins
Total Time: 40 mins
Serves: 16, Yield: 2 12 inch pizzas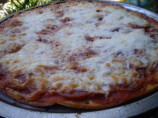 Photo by breezermom
About This Recipe
"From a Gold Medal Flour bag in the early 1970's -- makes 2 crusts -- if your children won't eat onions, do as I did when my daughter was little and blend the tomato sauce and onion in the blender! If Jennifer couldn't see the onion pieces, she ate it! Can be frozen and baked at a later time -- For crispy pepperoni, put it on top of the cheese!"
Ingredients
Dough

1/4 ounce active dry yeast ( 1 package is approximately 2 1/4 teaspoons)

1 cup warm water ( 105-115 degrees)

1 teaspoon sugar

1 teaspoon salt

2 tablespoons olive oil

2 1/2 cups flour ( stir to remove any lumps)

Sauce

1/2 cup chopped onion

1 (8 ounce) cans tomato sauce

1 ounce parmesan cheese, grated ( equals 1/4 cup)

2 teaspoons dried oregano

1/4 teaspoon salt

1/4-1/2 teaspoon minced garlic

1/8 teaspoon pepper

Topping

4 ounces pepperoni, sliced ( equals 1 cup ~ use 70% less fat turkey pepperoni for less fat puddles!)

8 ounces mozzarella cheese, shredded ( equals 2 cups)
Directions
Dough directions:.

Preheat oven to 425 degrees (400 degrees if using Pyrex pizza pans).

Dissolve yeast in warm water. Stir in remaining dough ingredients: beat vigorously, about 20 strokes.

Allow dough to rest about 5 minutes while preparing sauce.

Sauce:.

Mix sauce ingredients; set aside.

Assembly:.

Divide dough in half. On lightly greased baking pans, pat/press each half into 12 inch circles. Use floured finger tips when pressing dough into circles.

Spread sauce on each circle. Arrange pepperoni on top and sprinkle with mozzarella cheese. Or, for crispy pepperoni, put it on top of the mozzarella!

Bake for 18-20 minutes or until crust is brown and topping is hot and bubbly. Makes 2 pizzas.

To freeze and bake later: double wrap and freeze assembled pizza (without baking) on the pizza pan ~ bake frozen pizza at 400 degrees for 25 minutes.