Kiwi Fruit & Strawberry Bark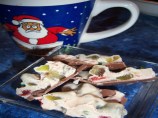 Photo by **Mandy**
Prep Time: 2 mins
Total Time: 4 mins
Servings: 6-8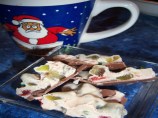 Photo by **Mandy**
About This Recipe
"From Lion of Sahara, colours are great for Xmas."
Ingredients
200 g dark chocolate

200 g white chocolate

100 g dried kiwi fruits, chopped

100 g dried strawberries, chopped
Directions
Melt the dark chocolate and spread over baking paper in slice tray. Cool completely until chocolate has hardened.

Melt the white chocolate and add the dried kiwifruit and strawberries. Stir through until just combined.

Spread the white chocolate on top of the dark.

Once the chocolate has set, remove from tray and cut into pieces with a knife or cookie cutter.