More Please! Ground Turkey Casserole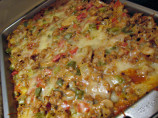 Photo by yogiclarebear
Prep Time: 20 mins
Total Time: 1 hr 20 mins
Servings: 8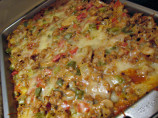 Photo by yogiclarebear
About This Recipe
""More, please" is what I always hear from my kids when I make this casserole. I love it because it tastes great and is super easy after a busy day when I don't feel like working very hard on dinner. You can also assemble this casserole the night before (minus the cheese; add it just before baking) and refrigerate until the next evening - just remember to shorten your baking time as the noodles will absorb the liquid overnight - it will only need to bake 25 minutes or so, or until heated through and cheese is melted and golden brown. ** NOTE**Depending on the meat used, you may or may not need the specified amount of oil for saute-ing the meat and vegetables; adjust amount according to your needs."
Ingredients
1 lb ground turkey or 1 lb lean ground beef

2 tablespoons oil

1/2-1 cup chopped celery

1 green pepper, sliced

1 small chopped onion

1 (16 ounce) cans tomatoes

1 teaspoon seasoning salt

1 (16 ounce) cans tomato sauce

2 teaspoons oregano

2 cups water

1 teaspoon garlic

1 (4 ounce) cans mushrooms

1 tablespoon sugar

12 ounces uncooked egg noodles

8 ounces shredded mozzarella cheese
Directions
Saute turkey, onion, green pepper and celery in oiluntil meat is browned and vegetables are tender (but not mushy).

Add salt, oregano, garlic and sugar; add tomatoes, tomato sauce, mushrooms and water.

Simmer 15 minute.

Place uncooked noodles in greased 13x9x2 pan. Pour mixture over noodles. Top with mozzarella cheese.

Bake at 350* for 45 minute Cool 15 minute Serves 8.