TSR Version of Starbucks Gingerbread Latte by Todd Wilbur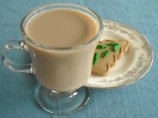 Photo by NorthwestGal
Prep Time: 10 mins
Total Time: 30 mins
Servings: 1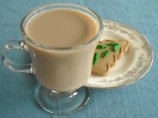 Photo by NorthwestGal
About This Recipe
"I found this recipe online several different places, and it IS a very good recipe. If you don't want to use the syrups called for in other recipes, make your own! When the syrup is done, brew the espresso, steam some hot milk, and continue with your latte. It's simple, it's delicious, and inexpensive. No hard to find syrups. Preparation time is a guess and probably takes less time then stated. Note: Please note! The recipe makes more syrup then called for. Please use only the amount called for. Put the rest in the refrig and use it later.Also, the stuff starbucks uses is obviously different from homemade, so use the amount called for. From www.TopSecretRecipes.com"
Ingredients
2 cups water

1 1/2 cups granulated sugar

2 1/2 teaspoons ground ginger

1/2 teaspoon ground cinnamon

1/2 teaspoon vanilla extract

1/2 cup fresh espresso

8 ounces milk, steamed ( with a little foam)

whipped cream

ground nutmeg
Directions
Make the gingerbread syrup by combining water, sugar, ginger, cinnamon and vanilla in a medium saucepan. Be sure the pan is not too small or the mixture could easily bubble over.

Bring mixture to a boil then reduce heat and simmer syrup, uncovered, for 15 minutes. Remove the syrup from the heat when it's done and slap a lid on it.

Make a double shot of espresso (1/2 cup), using an espresso machine. Use the machine to steam 8 ounces of milk, or heat up the milk in the microwave if your machine does not foam and steam milk.

Make your latte by first adding 1/2 cup espresso to a 16-ounce cup. Add 1/4 cup gingerbread syrup, followed by the steamed milk. Stir.

Top off the drink with a dollop of whipped cream, and a sprinkle of nutmeg.