Hot Chocolate + Pb Cups = Ooh La La! (Kid-Friendly)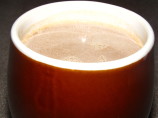 Photo by kellychris
Prep Time: 5 mins
Total Time: 7 mins
Servings: 2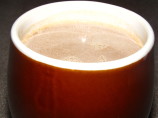 Photo by kellychris
About This Recipe
"I found this recipe on a bulletin board at my nephew's elementary school in Tecumseh, KS. It was part of a collection of recipes encouraging kids to 'get in the kitchen'. Later that night, I turned on the Christmas lights, lit the fireplace and enjoyed this decadent beverage! It tastes just like Reese's PB cups! WARNING: While this is a delicious drink, it is incredibly rich. 1/2 a cup was plenty for me personally. I doubt I'll make this again, but it was sure fun and easy to make! Enjoy!"
Ingredients
1/4 cup mini chocolate chip

2 tablespoons half-and-half

1 tablespoon creamy peanut butter

2 cups milk ( 2%, whole, 1% and skim is ok, too)
Directions
Place the chocolate chips, half and half and peanut butter in a microwave-safe container.

Heat on high for 30 seconds.

Stir and repeat until the mixture is smooth. Set aside.

In a separate microwave-safe container, heat milk on high 1 minute. Repeat, if necessary. Milk should be warm, NOT boiling.

Pour chocolate mixture into milk and stir vigorously with a whisk until smooth. You may use an immersion blender or frother, if you'd like.

Strain, if needed, serve & enjoy.

May choose to top with whipped cream or marshmellows.